📖

"Music is the one incorporeal entrance into the higher world of knowledge which comprehends mankind but which mankind cannot comprehend." Beethoven



📖

"If playing in the house is dying out, so also is music. What one produces oneself, for example on the piano, while trying to analyse and study a piece of music, is worth more than the hundreds of hours that one spends at the radio."
Sergei Bortkiewicz Recollections, Letters and Documents (1922)




Piano Lessons for Adults

Numerous adult pupils ranging from complete beginners to music professionals have come here for piano lessons. Some have prepared for various kinds of performances, have won competition prizes, passed exams with distinctions etc. And some have discovered the joy of playing piano or making music with others, improved their skills and developed their understanding of music without any performances. Everyone who has a genuine interest in learning piano is welcome.



"People usually complain that music is so ambiguous; that it is so doubtful what they ought to think when they hear it; whereas everyone understands words. With me it is entirely the converse. And not only with regard to an entire speech, but also with individual words; these, too, seem to me to be so ambiguous, so vague, and so easily misunderstood in comparison with genuine music, which fills the soul with a thousand things better than words. The thoughts which are expressed to me by a piece of music which I love are not too indefinite to be put into words, but on the contrary too definite. And so I find, in every attempt to express such thoughts, that something is right, but at the same time something is unsatisfying in all of them…"
Mendelssohn in a Letter to Marc André Souchay; Berlin, 5 October 1842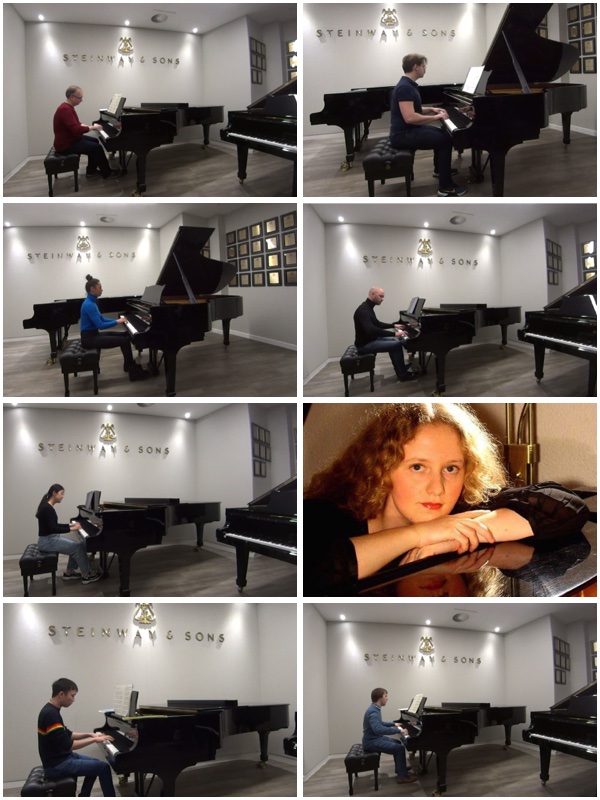 From a Piano Hour at Steinway Hall London in 2023

Components of Piano Lessons for Adults



🎵

All ages and levels from complete beginners to advanced pupils and professionals.



🎵

Adult beginners who start learning piano from scratch can get beyond grade 8 and play Diploma-level repertoire if they have enough patience and allocate time to piano practice regularly. Please read the page for beginners for more specific information.



🎵

Advanced pupils who are either preparing for diplomas as well as further professional opportunities or are learning for themselves can embark on systematic learning, gradually improving skills and mastering progressive levels of difficulty. Please read the page for beginners for more specific information.



🎵

In-person and online lessons.



🎵

Piano lessons are held in English, German and Russian.



🎵

Fulfilling hobby and enjoyment of music.



🎵

Embark on a road of musical discoveries and deepen your understanding of music and the connections with the arts, literature, history, philosophy, religion, poetry etc.



🎵

Develop music perception by learning to listen to music.



🎵

Discover that music theory can be fascinating and interesting.



🎵

Develop or improve sight-reading skills. It is absolutely possible to learn reading music with ease starting at any age and with a systematic approach this skill can be worked out within a reasonable period of time.



🎵

Lay the foundation for a healthy technique, solve existing technical problems, continue developing technical skills systematically and with versatility.



🎵

Learn to develop a rich, beautiful and varied sound through exercises and carefully constructed repertoire choices.



🎵

Build up or expand piano repertoire.



🎵

Learn to structure practice effectively and reach practice goals. As the famous French piano pedagogue and composer of many pieces for beginning as well as advanced learners wrote, "everything lies in knowing how to practise." (Felix Le Couppey Piano Teaching. Advice to Pupils and Young Teachers)



🎵

Develop confidence through functional practice planning, results and a positive attitude. Learn to be free from anxiety.



🎵

Benefit from video recordings regularly made in lessons for the purpose of practising performance (optional, of course).



🎵

Since the teacher is a practising professional concert pianist frequent demonstrations and improvised or existing accompaniments are frequently embedded in lessons for adults. Playing piano is something 'practical' and therefore not everything can be explained merely 'theoretically'; playing examples drastically speed up progress, direct pupils' focus, define sound possibilities as well as musical concepts, solve technical difficulties and develop artistry. Nothing can replace an example.



🎵

Learn to prepare for performance opportunities such as grade exams, diplomas, festivals, competitions, concerts, auditions etc. Get distinctions and win prices. Or prepare for further professional opportunities.



🎵

Be encouraged to participate in Piano Hours which provide a friendly non-competitive non-public performance environment in which pupils not only play themselves but also learn to formulate constructive critical feedback to help others. Try out playing new repertoire and practice before performances. Pupils often make friends with each other and tea/coffee/cake are always provided. In normal circumstances Piano Hours take place frequently and regularly. Competition among pupils is strongly discouraged and any kind of unpleasantness not welcomed. A friendly atmosphere permeated with kindness is the aim in human terms.



🎵

Have access to a lending library.



Please read the Ethos & Values page for an overall description. Also check the pages for Beginners and Advanced Pupils as well as the News for more information on lessons, events etc.



In addition, some articles may be of interest:
BBC: Adult Piano Lessons: Never Too Late to Learn?




Requirements for Starting Piano Lessons for Adults:



🎵

Pupils' own interest in music (and in this case particularly in learning piano) and willingness to practise.



🎵

Transfer pupils of any age and level might require an overhaul of technical/reading skills without which lessons would not make sense; for this to work pupils would need patience to fill existing technical gaps which takes time and cannot be done in a few weeks.



🎵

The orientation here is the individually best possible result; the aiming-at-the-minimum-quality (pass mark) approach with three pieces per grade is practised widely but does not really make much sense with regards to overall learning and performance experience; switching from this approach to a functional system may take time because it involves a redevelopment of understanding and skills at any level.



🎵

Willingness to behave appropriately is an absolute must. Any form of harassment or abusive behaviour will not be tolerated. Please check the Teaching Ethos page for further details.



📖

"Patience and exactitude are the main conditions for success…" Marie Prentner Leschetizky's Fundamental Principles of Piano Technique




Recommended Reading for Adults to Start Piano Lessons:

If you are a complete beginner at the piano and are also new to music it would be a good idea to look at the history as well as the theory of this art in an accessible format formulated specifically for beginners. Here are a few great books which could introduce you to music in general and help with piano lessons:








Explore Further Reading

The variety and versatility of books adult learners could read about music is unlimited but here are a few suggestions which could hopefully serve as starting points leading in different directions.



Some of the most recent publications in the field of music and piano playing:




























And some classics about the piano, piano playing and pianists:















👉 Explore different types of books on music including classical music in general, music theory, musical instruments, the piano, music history, performance, analysis, form, harmony, counterpoint and books for children on the materials pages.




📖 "To keep young, every day read a poem, hear a choice piece of music, view a fine painting, and, if possible, do a good action. Man's highest merit always is, as much as possible, to rule external circumstances, and as little as possible to let himself be ruled by them."
Johann Wolfgang von Goethe



📖 "Un jour, j'ai démissionné de toutes les fonctions que j'exerçais alors, pour retrouver l'étude.
L'étude des notes, de toutes les clés, des lettres, des partitions, des manuscripts, du piano, du violon, de l'alto, du violoncelle, des gammes majeurs et relatives, des langues, des livres.
L'étude est à l'homme adulte ce que le jeu est à l'enfant. C'est la plus concentrée des passions. C'est la moins décevante des habitudes, ou des attentions, ou des accoutumances, ou des drogues. L'âme s'évade. Les maux du corps s'oublient. L'identité personelle se dissout. On ne voit pas le temps passer. On s'envole dans le ciel du temps. Seule la faim fait lever la tête et ramène au monde."
Pascal Quignard Leçons de Solfège et de Piano




Book a Consultation Piano Lesson

Get in touch with a request by calling, sending a message or emailing:


☎️

+44 (0) 7454766539


📮

contact@pianolessons-london.co.uk









Piano Lessons London | Online Piano Lessons | Piano Teacher Bio | About Lessons | Piano Lessons for Beginners | Advanced Piano Lessons | Piano Lessons for Kids | Piano Lessons for Adults | Locations | Fees & Discounts | Results | Ethos | Music Library | FAQ | Performance | Piano Hours | Teaching Schedule | News | Media | Links | Reviews | Policy | Blog | Materials | Contact