NHS Discounts for Piano Lessons
Discounted piano lessons were offered to NHS frontline medical staff from the very beginning of the pandemic during the years 2020-2022. This offer has now (as of May 2022) been discontinued and will not be reintroduced.
---


We recognise the immense risk NHS doctors and nurses are taking doing their outmost and more to combat the outbreak of Coronavirus. As a token of appreciation we have decided to offer piano lessons on Skype or FaceTime at a hugely reduced fee (more than 50% off):

£20 for a whole hour

£17.50 for 45 minutes

£15 for 30 minutes

This offer is non-transferable and valid until the end of October 2021 and will be subject to revision in the summer. Please note weekly availability is limited to a select number of classes. This offer is only for NHS staff and not for private practitioners.



Lessons on this offers can be booked at a hugely reduced fee but this does not mean that the level of tuition could be reduced to the quality which would usually be delivered in this price category. Please do not expect the unprofessional type of teaching you would find with unqualified piano teachers. Please understand that the three-pieces-per-grade system does not help develop skills and is not practiced in this studio.



The question why this discount is offered specifically to NHS staff has been asked many times. Medical personnel has been hugely affected by this crisis which has been more dangerous for them than for many other people who had the opportunity to stay at home, get groceries as well as other necessities delivered, worked from home and enjoyed their daily exercise outside. This is the reason why.



This page does not contain much information other than the details regarding this particular offer. Go to the
homepage
for a summary and at least check the pages
about the teacher
and
about piano lessons
. On the
Media
pages you will find video and audio recordings from various years as well as the recently started
project to record music for lessons
.




How to claim this offer:

If you are an NHS frontline doctor or nurse and wish to take up this offer call +44 07454766539 or email us on
contact@pianolessons-london.co.uk
. You would need to email a photo of your NHS badge with your picture and name on it as proof.




Do you know someone working for the NHS?


Please help spread the word by sharing with friends and family working in the NHS during these unprecedented times.



Thank you for your perseverance.





"Music is the medicine of the mind" John A Logan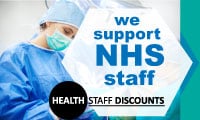 Piano Lessons London | Online Piano Lessons | Piano Teacher Bio | About Lessons | Piano Lessons for Beginners | Advanced Piano Lessons | Piano Lessons for Kids | Piano Lessons for Adults | Locations | Fees & Discounts | Results | Ethos | Music Library | FAQ | Performance | Piano Hours | Teaching Schedule | News | Media | Links | Reviews | Policy | Blog | Materials | Contact